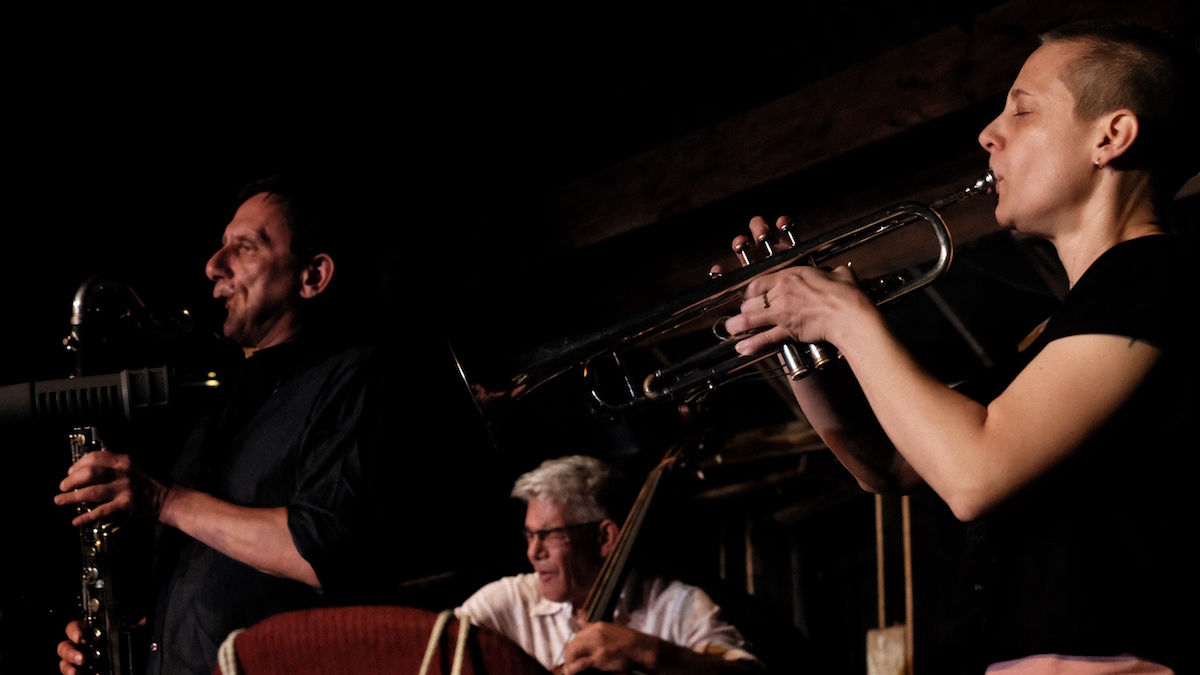 SKEIN
(extended)
Liz Allbee - trumpet and extensions
Frank Gratkowski – alto saxophone, clarinets and flutes
Kazuhisa Uchihashi - guitar and daxophone
Achim Kaufmann – piano
Wilbert de Joode – bass
Richard Barrett – electronics
Tony Buck – drums
SKEIN extended is an ensemble of seven outstanding composer/improvisers all of whom have redefined
their instruments and musical vocabulary.
The core group of SKEIN, if you will, is the trio Kaufmann/Gratkowski/de Joode. This improvising unit has
been touring and performing internationally on a regular basis since 2002, while constantly developing,
deepening and enriching their musical rapport now documented on five CDs.
In 2013, Kaufmann/Gratkowski/de Joode invited three of their favourite musicians (Richard Barrett,
Okkyung Lee and Tony Buck) to form an exceptional electro-acoustic sextet: SKEIN, which had its
premiere at the dOeK Festival in Amsterdam and subsequently recorded live for SWR radio in Germany,
later released on Leo Records.
The extended version of SKEIN with new members Liz Allbee and Kazu Uchihashi performed for the first time at the 2016 Berlin jazz fest, this time with Gerry Hemingway on drums and using Gabriele Guenther's poetry as a pivotal point for group improvisation. This concept was then continued under the name "Trokaan Project" which recorded a number of live concerts in 2019 subsequently released as a double CD.

The septet line-up with Tony Buck got together again for the
Konfrontationen Festival Nickelsdorf in 2018 and
Klangspuren Festival Schwaz in 2021.
The Nickelsdorf recording was released in 2022 by klanggalerie.


Some reviews................

"They circle around and with each other without a fixed leader, without predictable structures or obvious arrangements yet, at the same time, it seems as though they are mutually guided by an external force which tells them precisely where they are going. Their synchronous movements create pure hypnosis. This is free music in its most daring form, fostered by radical openness, adventurous elasticity and a connection that is hard to put into words. Sometimes you just have to sit back and let it come over you."


Guy Peters (enola.be)

about the Nickelsdorf performance (released as

Spectra & Affrays

by klanggalerie)


About
SKEIN : Leo Records : LR 708
"Like huge flocks of birds flying in formations (

SKEIN

is therefore a perfect name for the band), they seem to have an invisible radar sending out signals which shows them what they have to do – it is intuitive understanding par excellence. (…)
Schacht

is like a mad and free expressionist dance consisting of a free jazz piano trio part and which takes a different shift when electronics and cello drop in. The tempo of the piece takes incredibly fast turns, the structures seem to glide from one part to the next– and all this is done effortlessly, out of the blue, as if it was the easiest thing to do. (...)
This is one of the best albums this year, it is music of an austere beauty, full of the energy and unpredictability of free jazz and the subtlety of new music textures."
Martin Schray

(

freejazzblog.org

)
"The music is very much like a chemical reaction as maybe seen from the inside. Sounds are discontinuous and fragmented; the decomposing anions and cations oscillate under their own electrostatic charges to form new links where they can, rather than where they are willed, until one must wonder if any of the equations will ever reach equilibrium.
This is a fine album of startlingly free improvisation. It's spectacular."
Ken Cheetham – Jazz Views
"Improvisierte Musik in kompromissloser Form: Nichts ist hier von vordergründigem Effekt, nichts schielt nach Abgehobenheit, nichts ertrinkt in Routine – es ist verwegene, bissige Musik. Schonungslos ostentativ."


Hannes Schweiger - Freistil Magazin (A)